Invisalign® in Dracut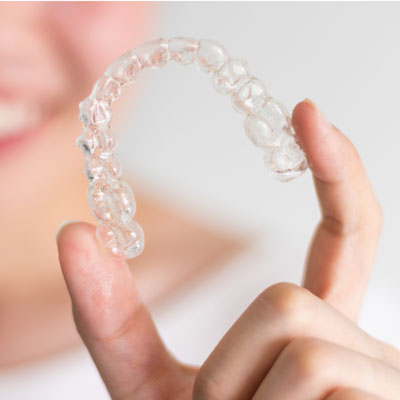 If you think having straighter, even teeth is impossible without a mouth full of metal, think again! At Dadiala Family Dentistry, we offer Invisalign® clear aligners for teeth that look better and work better too.
The Invisalign system is the most advanced clear aligner system in the world. Backed by two decades of innovation, Invisalign has helped bring smiles to millions of people worldwide.
What Is Invisalign?
Instead of metal, Invisalign is a series of clear plastic molds that gently correct the alignment of your teeth over a period of time. These aligners are worn 24/7, except for eating and oral care. You wear each set of aligners for about two weeks, then move to the next set. Each set moves your teeth slowly toward their desired position.
Invisalign is best for mild-to-moderate problems with crowding and alignment. For more complicated cases, we'll refer you to an orthodontic specialist for care.
What to Expect
Before starting the process, our dentist makes sure there are no dental issues, as treatment is extremely difficult once the process has begun. We take impressions and 3D images of your teeth and send them to the lab at Invisalign to create your digital treatment plan.
When completed, the plan is returned to our dentist for review. He'll make corrections and send it back for adjustment. Once your dentist is satisfied the plan meets your needs, he authorizes the production of your aligners. The number of aligners is different for each case.
Is Invisalign Right for Me?
This system offers a couple of key advantages over traditional braces. First, they're almost unnoticeable to others. Second, you can take them out before eating and cleaning your teeth. Be careful when you remove them—replacing a lost or damaged set is expensive.
Remember, you have to wear them for at least 22 hours a day every day. Only take them out for meals and drinks, then brush and floss your teeth and clean the trays before putting them back in—possibly while you're out and about.
And after the process is done, you will need to wear a retainer to protect your new smile.
Get Started Today
Get started on achieving a beautifully aligned smile. Contact Dadiala Family Dentistry to book a consultation.
CONTACT US »

Invisalign® Dracut, Tyngsborough, Lowell MA | (978) 957-5511