Pediatric Dentistry
At Dadiala Family Dentistry, we understand that your children are the light of your life, and there's nothing you wouldn't do to ensure they grow up to be healthy, happy adults.
As overall health is linked to oral health, dental hygiene is important to instill into your little ones at a young age so that they can thrive for life. We're happy to welcome your children into our practice, and can't wait to meet them.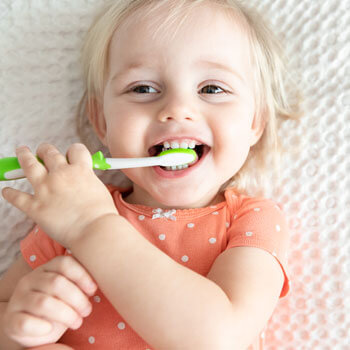 Your Child's First Visit
If you have children, you most likely are aware of the importance of early detection and treatment of any type of dental condition. In fact, the earlier that we begin to see your child, the more comfortable he or she will feel when they visit our office.
The first dental appointment should take place right around your child's first birthday so that he or she becomes familiar with routine dental care as early as possible. If your child is older than one and hasn't seen us yet, don't worry–we're here to welcome you (and them) as soon as you're ready.
The Importance of Children's Dentistry
When you and your child visit us for the first time, your dental appointment may include educational aspects like:
How to care for baby teeth to foster good habits and to protect secondary teeth.
Bringing in baby for a first dental visit and maintaining a proper oral hygiene schedule to prevent tooth decay from occurring in the first place.
Addressing tooth decay, even in baby teeth.
Fillings for baby teeth and the need for crowns, if required.
Maintaining the space for a permanent tooth when a baby tooth falls out prematurely.
Correcting any tooth that is chipped or broken.
Special appliances that prevent your child from grinding his/her teeth while they sleep.
Preventive orthodontics that can help to minimize the need for more extensive and costly future orthodontic care.
Consulting an orthodontist when we determine that an orthodontist consult is necessary.
How to have a pain free, no-stress dental experience that will keep your child comfortable and relaxed.
Book Their First Visit
We're every bit as concerned about your child's dental health as you are. Your teeth are meant to last a lifetime and we are committed to ensuring that they do, right from the time that your child's first teeth appear!
Help them smile big for life–book a visit today.